As your family discusses senior care for your mom and dad, it's good to start with a list of possible services. Once you know what's available, you'll be able to create a care plan that matches their needs.
Companionship
Your parents are alone every day of the week. They don't have friends or family members who can stop in throughout the week and keep them company. As a result, they're lonely.
Companionship is a popular benefit senior care offers. Caregivers visit as often as is needed to see how your parents are doing, engage them in activities, and let you know if there are any issues. They can hang out and play games with your parents, help them with a favorite hobby, or go for a walk.
Housework and Laundry
As arthritis worsens, your dad has a hard time stretching to dust his ceiling fans, light fixtures, and shelves. Caregivers can do the dusting for him. Your mom has a harder time walking downstairs to the laundry room after a fall, caregivers can do the laundry and put things away when they're dry.
You can arrange to have caregivers wipe down surfaces, vacuum carpets, and mop floors. Caregivers can hand wash the dishes, load and run a dishwasher, and tidy up. They can make beds and change sheets and towels.
Meals
Caregivers are happy to talk to your parents about their favorite meals. They'll help build a shopping list, take your parents shopping, and carry purchases to the car. Back at home, caregivers can carry the groceries inside and put things away.
When it's time for a meal or snack, caregivers can take care of prep work, cook the items, and serve your parents. If they need help to cut up foods or to get food to their mouths, caregivers can help with that, too.
Transportation
Your mom and dad have been told to stop driving. Caregivers can drive them to their doctor's and dentist's offices. They can wait for the appointment to end and bring your parents back home.
They can drive your parents to stores, local attractions, and area senior centers. They also help your parents get in and out of the car to prevent a fall.
Change Senior Services as Needed
Remember that once you've hired professional caregivers to help your parents, you can adjust services as needed. The benefit of senior care is that it's flexible.
If your mom injures herself in a fall and needs help getting in and out of the shower, it's easy to get that added. Once she heals and is fully mobile again, you can ask to have help with bathing removed. Make a call and learn how to schedule caregiver visits
If you or an aging loved-one is considering At-Home Personal Care in Athens, GA please contact the caring staff at Athens Advance Care today. (706) 705-2290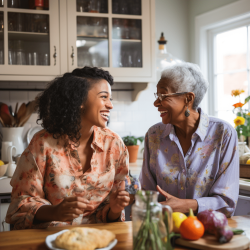 Latest posts by Athens Advance Care
(see all)