When your loved one can't see, it can be scary to let them age in place without your help. You may worry about how they're bathing, getting to the store, and even how they're dressing. Lack of vision can lead to a lower quality of life, but personal care at home providers can help your loved one with many things and be the sight your seniors lack. They can help your senior mom or dad shower, dress, cook, and be a non-medical driver for your seniors, keeping them as independent as possible even if they're missing their vision.
But what could be causing this vision loss? Here are a few conditions you and personal care at home should know about that could be causing a senior to lose their vision.
Glaucoma
One of the most common conditions a senior can face as they age is glaucoma. This happens when the pressure around the eyes magnifies, and it can be painful for your loved one to deal with, but your senior may also not notice because it can also have no symptoms, so it goes untreated. If seniors are experiencing tunnel vision, it could be a sign of glaucoma, and if their vision worsens, they may go blind without a doctor's intervention. Your senior may know they should be going to the doctor every year, but they should also be getting regular eye checkups yearly to ensure their eyes remain healthy and their vision loss isn't a sign of something worse.
Diabetes Can Impact Eyes
When you hear about eyesight going, you may think of glaucoma or something worse; when you hear about losing things from diabetes, you may think someone loses their legs or arms. But believe it or not, your eyesight can be impacted by diabetes. When a senior has blood sugar changes, their vision can also change. If your senior has diabetes and is not taking the time to take care of their blood sugar or doesn't know they have diabetes, it can cause serious eye problems that will lead to full vision loss. It is crucial to talk to a doctor and learn how to manage diabetes to avoid any serious problems.
Cataracts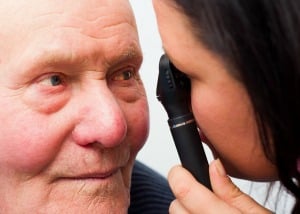 You may have heard of cataracts, and luckily, if this is caught early enough, a senior can avoid vision loss. This is when clouding covers a senior's eye due to protein buildup. If your senior is complaining about everything being cloudy or they keep seeing doubles with no history of other eye problems, it's a sign that they need to go to the eye doctor and check for cataracts. If this is not taken care of, it can lead to permanent vision loss.
High Blood Pressure Can Impact Vision Loss
High blood pressure impacts a senior's blood vessels, including those blood vessels in and around the eyes. When blood pressure gets too high, it can impair their vision because they may get less blood flow to the eyes, which is important for sight. A senior regular doctor will diagnose high blood pressure and give your senior tips or medication to manage it.
If you or an aging loved one are considering Personal Care at Home in Bogart GA, please contact the caring staff at Athens Advance Care, LLC today! (706) 705-2290
Providing exceptional home care in Athens, Watkinsville, North High Shoals, Winterville, Bogart, Commerce, Jefferson, Statham, Arcade, Bishop, and surrounding areas.
Latest posts by LashayLa Walter
(see all)