May is National Walking Month which means that May is a fantastic time for seniors to focus on walking more. Walking is a nearly perfect exercise for seniors. It's easy to do. Almost any senior can do it. And seniors don't need any kind of special equipment or clothing to do it. Just a good pair of shoes, some comfortable clothes, and a desire to get moving. They could even have their senior home care providers accompany them on their walks.
Walking is one of the best ways for seniors to stay fit because it's something that seniors can do consistently. And just 30 minutes of walking 4 or 5 times a week can transform a senior's health. Seniors can lose weight, build muscle, and lower their risk of a stroke or heart attack just by getting up and walking. Sometimes walking can be a little boring though. And when the weather is bad it may not be possible for seniors to go for a walk.
During May and throughout the rest of the year seniors can use these tricks to walk more and get healthy:
Join A Walking Challenge
A walking challenge is a fun way for seniors to challenge themselves to do more walking in May. There are lots of groups locally and online that are challenging people to walk a set number of miles in May. The prize for hitting the goal can be money, gifts, or just the satisfaction of improving health and getting fit. But when seniors join a walking challenge it will give them a sense of purpose and a fun competition that will motivate them to get healthy. Check out the local senior center, online seniors' groups, or local walking clubs to find a challenge to join.
Get A Fitness Tracker
Fitness trackers aren't necessary for walking but they are a great motivation tool. Seniors who wear a fitness tracker can set as their goal the number of steps that they want to get in during the day and the tracker will remind them to get up and walk to meet that goal. By making measurable step goals seniors are much more likely to find ways to walk additional steps during the day, like walking around the block when they have a few minutes to spare instead of sitting down to watch TV.
Walk Indoors
Indoor walking allows seniors to get their steps in and log some miles when the weather is too cold, too wet, or too hot to go walk outside. There are more ways than ever to get walking inside. Seniors can join a local mall walking club that gets together to walk in indoors in malls. Or they can do home walking workouts with streaming online classes and walks led by an instructor. Seniors can also join a gym that has an indoor track. Seniors with senior home care can challenge their home care provider to a walking challenge to make walking more of a priority.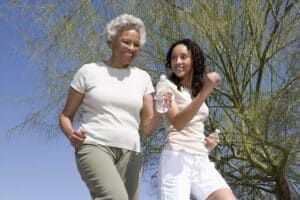 Walk With Friends or Senior Home Care Aides
Going for a walk with some neighborhood friends or their senior home care aides is another great way for seniors to get in some extra walking. If your senior parent has neighbors that have a dog your senior parent may want to ask if they can walk the dog during the day. It will give them an extra walk and get the dog out of the house for a nice walk during the day.
If you or an aging loved one are considering Senior Home Care in North High Shoals GA, please contact the caring staff at Athens Advance Care, LLC today! (706) 705-2290
Providing exceptional home care in Athens, Watkinsville, North High Shoals, Winterville, Bogart, Commerce, Jefferson, Statham, Arcade, Bishop, and surrounding areas.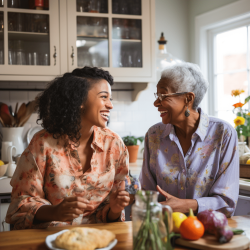 Latest posts by Athens Advance Care
(see all)